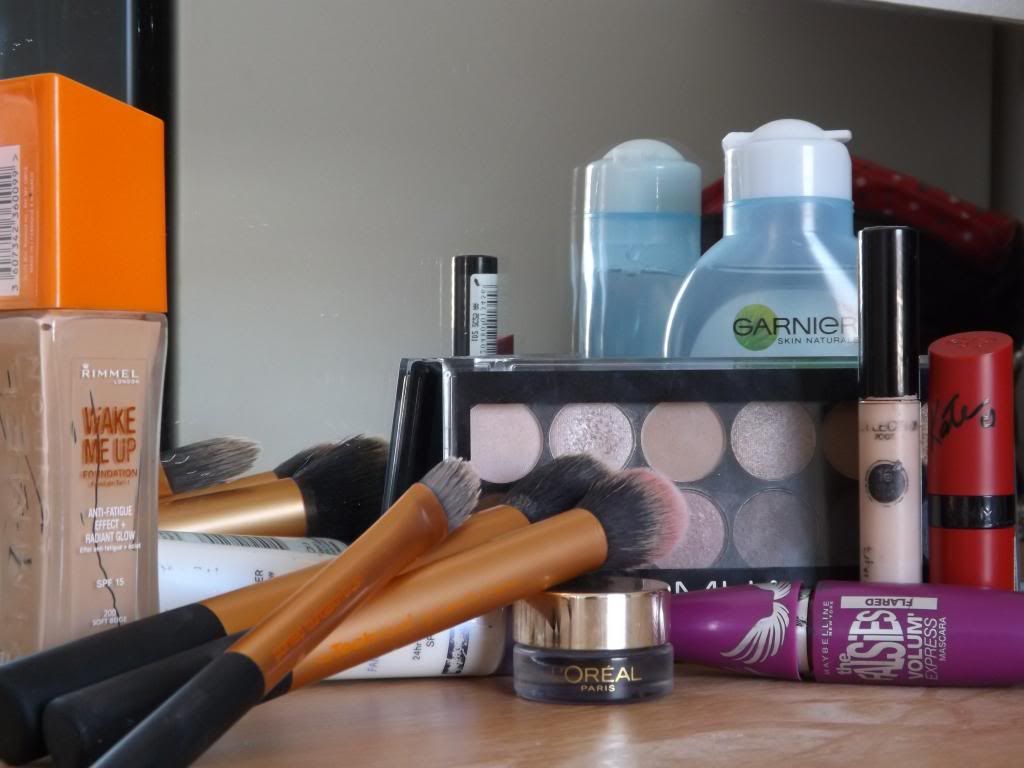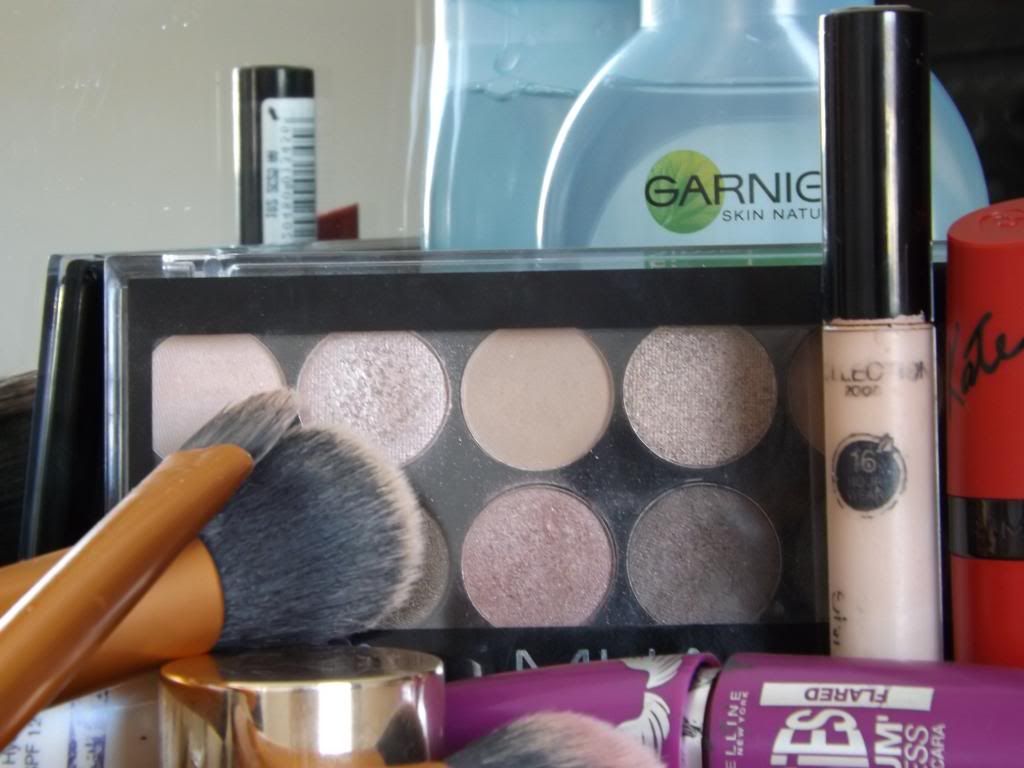 Ok, so I know it's now two weeks into January but I thought I'd share with you the products I discovered,
and liked
, in 2012. A bit like a 2012 favourites I suppose! I started blogging early in 2012 and I wouldn't have tried most of these products if it wasn't for this blog and reading every elses. You hear so much hype about certain products and so you get your purse and jump onto the bandwagon, sorry bank. There are definitely some products that I will continue to use for most of 2013 but I'm looking forward to finding some more gems this year.
Rimmel Wake Me Up Foundation, probably one of the most talked about foundations of 2012. I used to be a bit of a foundation snob and wore my MAC foundation daily and had another for when I was going out but wanted to be a bit more glam. I saw so many bloggers rave about it that I thought it must be worth a try. I wasn't sure in the beginning but then after using it a while it totally grew on me and made me love drugstore products again. It did make me feel a little more oily than usual but I'd just make sure I had some powder to hand! It's one of those products that has gone beyond the boundaries of drugstore products and I loved it.
Real Techniques brushes, this is one of the products I wouldn't even know to try had it not been for Anna. I remember watching a video and thinking I need that buffing brush. So when I had finished my dissertation I treated myself in Boots to the Core Collection and remember the lady being like "oh, these are expensive!" and I agreed, just to be polite, but then thought well no you get 4 brushes for £22. Crazy lady. Anyway, I didn't really want the other brushes so got to work using the buffing brush everyday (and still everyday!!) with my foundation. I was amazed at the difference a brush could make. It makes it seem so much more natural and blended than a normal foundation brush. I then started to experiment more with the other brushes and now use the pointed foundation brush for my concealer and use the contour brush for my blush on the apples of my cheeks. The only brush I don't use is the detailer brush but I'm sure I may one day. My collection has now grown and I also have the Starter Set but I also want the powder brush!
L'Oreal Nude Magique BB Cream, I purchased this one when the BB cream world was getting popular and I think there was some kind of deal with L'Oreal products so it was either cheaper or free! I wasn't impressed at first and left it to the side for a while until I started to tan and realised that this was perfect for giving me low coverage with a beautiful glowing finish. I used it all throughout holiday and find it perfect for what I need it for.
L'Oreal Superliner Gel Intenza, I've had a love-hate relationship with eyeliner for a long, long time. I love the look of it but found it so hard to do and wasn't sure it even suited my eyes let alone my face. I was in the mood to give it another shot and thought a gel eyeliner may work better than the pens or kohl pencils. I instantly fell in love with this product. It is super easy to use and gives a great, slick finish. The brush it comes with isn't the best but it works if you don't have another. It will also last a majorly long time even though it's such a small pot, I've only made a small dent in it and had it since like February last year!
MUA Undressed, another blogger fave and after umm-ing and ahh-ing about getting it I was kindly given it for Christmas and am so glad I did. I started to try eyeshadow again (me and my eyes ay!) in October so thought this very cheap palette would be great for experimenting. I've loved seeing what the shades will do together and giving them a go, luckily I had a lot of time off around Christmas so used this everyday. Go get it!!
Maybelline The Falsies, I hadn't actually heard much about the product before I bought it but have always used either Rimmel or Maybelline mascaras and like to try new ones out. After using this one though I haven't wanted to try anything else! It's great for thickness and volume and doesn't make your eyelashes clumpy. Score!! I also like that the packaging is purple... and it has wings on - such a girl.
Kate Moss for Rimmel Lipstick in 101, I tried the last lot of Kate Moss' lipsticks and thought they were good quality so when these ones came out I read a few of the blogs to see the shades and confirmed it was 101 that I was after. It's a beautiful and natural pinky shade that is great for everyday wear or when you're going out but may have other colours going on elsewhere. It isn't too obvious you are wearing lipstick, which is what I quite like, and it's moisturising which is good for my terribly dry lips.
Collection 2000 Lasting Perfection Concealer, where have you been if you haven't heard of this beauty. Another one of those 'here's the bandwagon you better get on fast' products. I suffer with quite bad dark circles so this one is great for under the eye as well as helping calm down the redness on my cheeks and nose - thanks mum!! It's around £4 and lasts well. The packaging is pretty rubbish but I'd rather pay less and it be cheap packaging than pay a bit more just for it to look better. Well done Collection!
Garnier Simply Essentials Gentle Eye Makeup Remover, I used to be one of those who used a face wipe or, occasionally, some cream cleanser to take off my mascara. I then started to realise what I was doing to the gentle eye area and bought this. I've used about 4 bottles and I will continue to buy it until I see something else better. It's great. It's for people with sensitive eyes or those who just want to be a bit more gentle. You put some on a cotton pad and hold on the eye for about 10 seconds then wipe. It is super soft and feels quite refreshing. My eyes used to really sting after using wipes or just feel really, like clogged up after using a cream based cleanser. I have noticed a difference in my eye area since using it and would 100% recommend it.
So there we have it, a selection of items I discovered and loved in 2012. I still forget to write 2013 on things but we all do that for about a month, don't we? I'm really looking forward to finding some more amazing products in 2013 and seeing what happens here on the blog. I hope you enjoyed it :)