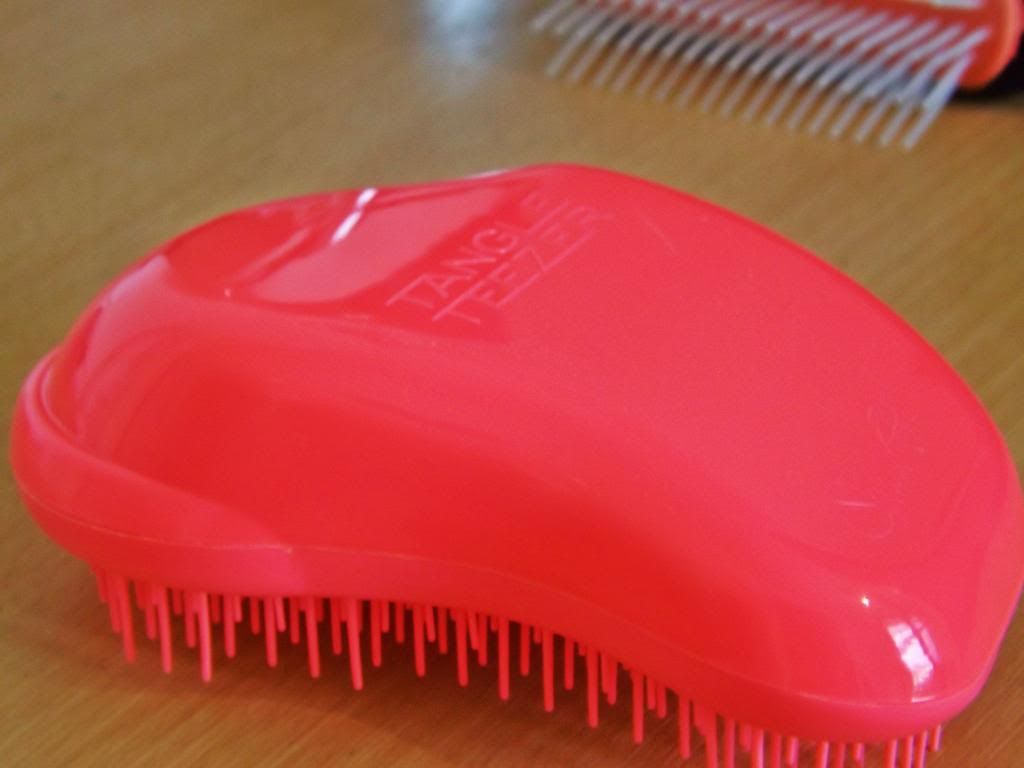 I feel like I haven't actually heard

that

much about Tangle Teezers in the blogging world but I have seen a few posts and being the gal that I am, always after something that is going to make things quicker and easier, I popped one on my Christmas list and found it under my tree on the big day. Woop!
So, the Tangle Teezer, by Shaun P (thank you!), can be bought online here, through Boots and various other places. It was invented when he noticed that women just like me and you who go into salons to have their hair coloured or highlighted, were having their hair pulled around all over the place causing split ends more knots. When I had my hair blonde I noticed it was really bad for about a week after having it done and when you brush through your hair it just made it frizz at the ends and cause lots of breakages! Yuck. This swizzy product glides through hair so easily due to it's specially designed plastic teeth you hardly see any hair in the brush afterward and it doesn't hurt at all. Plus no knots!
I opted for the 'Original' Tangle Teezer which is around £10 - personally it's not at the price that I'd just pop into Boots on a normal day and pick it up. It'd be something I'd buy as a treat or request as a present, however it is totally worth it if you do get one! My boyfriend got me mine and bought it in Bubblegum Pink which I love, it's so bright and girly and it is just so... simple! Some people find it annoying that it doesn't have a handle but I think that is just the way it has been designed to be used, which I like. It has specially molded parts where your hand and fingers can grip, but it will take a little getting used to, que lots of banging on the floor and possibly some swearing! What I also really like about it is that it's British, I always feel so proud to know that someone in our Country has designed something that has done so well - still got a bit of Olympic fever left in me sorry!
This is definitely one that I can't see me growing out of and it doesn't render my Denman brush completely obsolete either because I'll use that if I'm putting my hair up or back combing it. So they can live happily together.
Hope you've all had a nice weekend, it's been a bit more of a chilled on for me as next weekend is meant to be busy - if all goes to plan! I've seen some family, cleaned the house and made chocolate croissants, mmmm delish! I sound like such a house wife, I'd better go do something crazy.